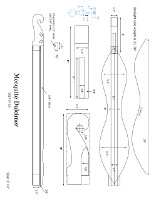 I have started another instrument building project. This time I am going to build an Appalachian Dulcimer. The most interesting thing about this project is probably the wood.
About 25 years ago I started building dulcimers. I read somewhere that an interesting wood to use for that is Mesquite. Mesquite is a very hard wood that grows native to Texas. It is three times more dense than hard maple, and has a unique grain.
So, about 25 years ago I ordered a few board feet of Mesquite from an outfit in Texas. Shortly after that, I started building banjos instead of dulcimers, and the Mesquite sat in a corner of the house, unused. Now that I have retired, I found those old boards and hauled them out for a second look. The wood is so unique that I have decided to go forward with the dulcimer project, and I will document my progress on this web site.
The intention of the web site, as it is with my other pages about banjo building, is to chronicle my (mis)adventures while I attempt to build this instrument. I am sure that there will be some gotcha's and oopsies along the way... so far that is what has happened each time I have done this. But I keep doing it anyway.
But before we start, here are some tips about how the site is arranged.
Oh. Yes. One more thing. Take a look at the background image. That is one of my Mesquite boards. I hope that it doesn't make the text too difficult to read. But there it is; I like it.
The [Previous] link returns to the previous page.
The [Home] link returns to this page.
The [Next] link goes to the next page.
The DEB logo at the bottom goes directly back to the Dead Easy Banjo page.
There is a Site Map page with links to all of the individual pages.
Click on [Next] to get started or use the Site Map to go directly to any of the pages.